At A Lyrical Body our Mobility and Recovery program allows you to work on your strength, flexibility, mobility, stability and connections through 4 different disciplines.  With each of these disciplines classes are offered in a private, semi private or group setting.  Our group classes are limited to 5 clients for the best experience.
ELDOA - Created by world renowned osteopath, Guy Voyer, ELDOA is a form of exercise that takes you into different stretching and strengthening postures and positions for the spine and joints of the body. These exercises create space between your vertebrae and hips and shoulders to alleviate back pain, to improve overall posture and to set up the framework and boundaries for the organs and glands to function properly.  Classes are designed to increase flexbility, improve muscle performance and tone, reduce stress, improve injury recovery and prevention and increase disc hydration through intelligent sequencing and cuing.
ALIGNMENT BASED YOGA - This class will teach you how the body is designed to move in the most efficient way with emphasis on precise alignment of postures and attention to detail. The development of strength, mobility, and stability is gained through the practice of selected postures. Great for students with more experience looking to further develop basic postures with extra instruction at a slightly slower pace to help you build a solid foundation. You can use what you learn in this Yoga program to move efficiently throughout your daily routine.
MYOFASCIAL RELEASE - Improve your mobility, flexibility, and circulation using props and your body as you are guided through dynamic stretches and postures. Whether you're holding or moving through positions, you will work on increasing your range of motion and leave feeling a change in your tissues and mood.
YIN AND RESTORATIVE YOGA - During your Yin Yoga session, you will get deep into the soft tissues of the body. It's less restful, and geared more towards a functional release of deep muscle tissue. Poses are held longer and the use of props is encouraged to modify poses where necessary. You will develop a healthy alignment and body awareness through mindful adjustments in postures.
With our Restorative Yoga class you will take a gentle, healing approach to releasing deep layers of tension throughout your body. Given props to support and ground postures, you'll acheive poses without much muscular strength, fascilitating deep release in the connective tissueand calming the nervous system. Postures are held for approximately 10 minutes.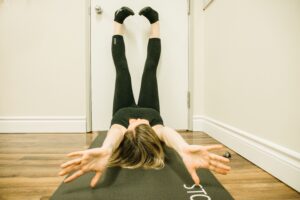 INTRODUCTORY PACKAGE OF PRIVATES IN ANY DISCIPLINE:
4 sessions for $54 each *
INTRODUCTORY PACKAGE OF 5 PERSON GROUP CLASSES:
8 sessions for $24 each *
ONLINE PRIVATES:
$45 each *
*taxes extra